The industry leader in dry hire rentals, Main Light has been supporting the industry for over 40 years and recently has undergone some big changes.
As seen in the November 2021 edition of PLSN magazine
When Aidas Gimbutas founded Main Light Industries, Inc. in 1981 as a lighting rental company, he probably didn't see all the changes that would come—both in the industry and with his company. Changes which included the innovative product, LightScape fiber optic drapes brought to us by Main Light itself. Now 40 years on, Main Light saw another change, a change in ownership. On March 1, 2021, Michael Cannon, co-founder, and former CEO of 4WALL Entertainment, acquired the assets and operations of Main Light Industries, Inc. and is now President and CEO, Main Light, LLC.
"Deciding to 'sell' your business is never easy," notes Gimbutas. "I could not have found a better person than Michael Cannon to accept ownership of Main Light. Michael invested in what was obviously, a tough time for the industry. He is continuing full time employment for our dedicated and loyal staff; he respects our customer service approach, and he is here to not only continue but will strengthen Main Light's ability to provide our services well into the future. I could not ask for more."
Having built many successful businesses, Cannon knew that Main Light has a good strong foundation which he is excited to build upon. "Aidas and his team have built a great company over the past 40+ years," says Cannon. "Main Light has always been considered one of the preeminent lighting rental providers to the industry and among its strengths are its valued long-term employees like Randy Mullican, Giovanni Ciranni, and Rick McKinney who each have been with the company for over 20 years. Main Light's business model of being a dry hire only rental company and providing lighting equipment and soft goods to the production industry is something that has always intrigued me. They do it exceptionally well and I plan on keeping the company doing just that."
Mullican, General Manager for Main Light, LLC states, "We are excited about this new chapter for Main Light. The new ownership will allow us to take the next step in the natural evolution of the company. We are looking forward to expanding our dry hire services and continuing to be the 'go-to' source for companies looking at growing their current and future opportunities without having to invest significant capital into large equipment purchases."
Westward Expansion
In addition to the new ownership change, Main Light has responded to the many requests from clients to have a West Coast presence and on August 23, 2021, they opened a 40,000-square-foot facility in Las Vegas, NV. While they always supported clients in the western half of the country, this allows them to reduce costs and time required in shipping gear back and forth to clients. Pairing with Main Light's well-regarded Delaware shop, the Las Vegas operation duplicates the depth of new and well-maintained equipment available along with the high-level of customer service that makes Main Light the trusted provider for professional production companies. The location at 6435 South Valley View puts them in close proximity to many of the major production and rental companies in Las Vegas for easy access.
"Main Light is pleased to have expanded our market reach by opening a West Coast location, which we know has been a wish of many of our customers for some time," states Mullican, whose GM role covers both Main Light East and West. "Whether on the East Coast or the West Coast, clients can be confident of finding a trusted partner in Main Light and receiving the same reliable service and equipment. We are here, now on both coasts, ready to respond efficiently and effectively to the needs of the industry when they are looking for additional equipment support to supply their clients' requirements. Our entire team—and in fact, our deep inventories—reflect this; we are focused on the highest level of customer service and staying ahead of our clients' needs."
Balanced Inventories
In both Delaware and Las Vegas, clients will find that Main Light's equipment inventory reflects the latest entertainment technology available. Main Light has been very busy rebalancing its inventory by selling off older equipment and increasing its inventory of new, state-of-the-art technology. Staying in front of their client's needs, Main Light focused on acquiring the in demand gear by production companies looking to supplement and access quality equipment from a trusted dry hire resource. "We are here for our clients," notes Mullican, "All these production companies need support as they get ramped back up but don't want to make new equipment investments themselves; we are ready to provide that backup to them."
Among the recent gear acquisitions by Main Light are a significant quantity of MA Lighting's grandMA3 full-size and light consoles; Robe BMFL Followspot LT fixtures and Motion Cameras, boosting its inventory of available RoboSpot remote followspotting systems; a quantity of Elation Professional's IP-rated Proteus Maximus™ LED luminaires; as well as a number of Eclipse FS full color LED ellipsoidals from Prolights.
The Las Vegas operation will also fill the longstanding request that Main Light have a stock of their popular LightScape fiber optic drapes housed on the West Coast. "There has always been a large demand for our fiber optic drapes in Las Vegas and Los Angeles," Mullican points out. "Having a Las Vegas location means we will be able to cut the shipping costs significantly and much more effectively meet that product demands."
All of the Main Light inventory is well-maintained and passes meticulous quality control testing and a cleaning program after every rental and before it leaves the shop. Being a dry hire, Main Light wants their equipment to blend in with the client's existing equipment, so all Main Light road cases are intentionally left unbranded. Each case also comes with Main Lights' own exclusive labeling system identifying exact contents and inspection dates as well as a sticker with the renting company's logo and the order number.
Building out the Team
While much of the personnel has remained the same, there have been additions to the Main Light team to support the recently expanded company. Among the new hires in the Main Light East office is Dave Pretz who serves as Asset Manager having oversight on the inventory and new equipment acquisitions company wide. Prior to joining Main Light, Pretz worked as Asset Manager/Warehouse Manager for Atomic Lighting and was the Cross Rental Manager at 4Wall Entertainment, where he had also worked as Operations Manager and their Returns Manager. Mullican notes, "Dave brings to the role of Asset Manager in-depth knowledge on how production shops source the gear they need through sub-rentals and how to assess what technology should be acquired. This will allow Main Light, as a dry hire rental operation, to continue to build-on upon our successful business model. His background and his expertise are a great fit with our team here at Main Light."
Steve Nancarrow also joined the team, serving as Rental Executive based at Main Light West. His responsibilities include business development and client interfacing with professional production companies. Nancarrow previously worked for 27 years at PRG Las Vegas, most recently holding the position of Entertainment Lighting Representative. "Steve is a great fit for our Main Light team," Mullican comments. "He knows the business, he has great relationships with so many people in the industry, especially on the West Coast, and he is committed to getting customers what they need to make their show a success. With his almost three decades of experience in a busy production house, Steve really brings a deep understanding of our customers and I know he will provide them with Main Light's highest quality of customer service."
Another addition to the Main Light West team is Mike Gaynor, the Operations Manager for Main Light West. He brings a depth of experience in the industry having worked at 4Wall Entertainment in Logistics and as the Assistant Operations Manager. Before working at 4Wall, he was the Operations Manager at Christie Lites in Las Vegas. "We want to continue the legacy of what we built on the East Coast in our new Las Vegas operation," states Mullican. "With that said, we feel that Mike is a great addition to the Main Light team. He brings a high level of organization and expert logistical knowledge that our customers have come to expect from Main Light. He also grew up in the business and brings his family's tremendous work ethic to Main Light West."
"We are all really excited about getting things up and running here at Main Light in Las Vegas," Gaynor comments. "We have a great crew here, with lots of years of experience and they are all looking forward to putting that experience to work for our customers. I think much of that experience is evident in the well thought out procedures we have created as we have opened, and it is evident to clients in the well-prepped equipment now leaving our shop to fill orders. Our aim is to make Main Light a premier shop on the West Coast, just as they are known to be on the East Coast. The only difference between the two shops that our customers should expect will be the landscape outside. Inside, it is the same industry leading Main Light. The same one that has earned its well-deserved great reputation, and if anything, our goal is to help build upon that high level of customer trust, as we build our customer base here on the West Coast. We want every one of our clients to know that they're getting the very best when they come to Main Light— East or West. They can be confident of that."
Nancarrow agrees, "I'm honored to be here. Main Light has an excellent reputation in the business and people can feel confident that they can call us and get the gear they need and that they want. The West Coast is a huge market, and production houses can run out of gear quickly, so we are here to assist clients as a dry hire-only option, filling in all the holes in their inventory. We are solely focused on that role so we make sure we have all the latest and in-demand gear clients are looking for and that it is all reliable, all well-maintained and always efficiently prepped so customers can trust us to help make them shine on show site. Main Light West, just as Main Light always has, is here to help augment their inventory and make everybody happy in the process. We're excited to be open and we're busy moving orders out the door."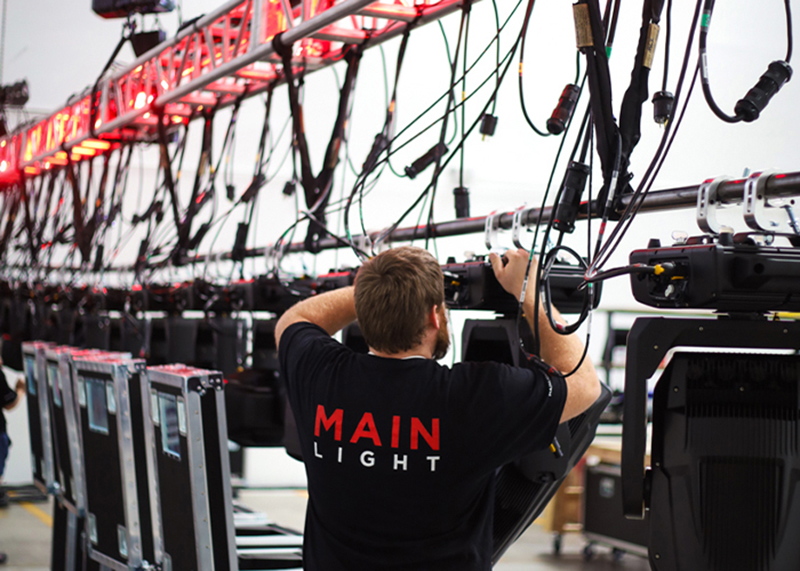 Responsive Service
With the new ownership, Main Light has created a new logo and built a dynamic new website to make it easier for its clients to find the right gear when they need it. Also, with an eye toward fully supporting their clients, they created a company-wide 800 number, (800)-397-MAIN (6246). Well-known for their commitment to the highest levels of customer service, the company's 800 number is answered live from 8:00 a.m. ET to 5:00 p.m. PT, covering business hours from coast to coast. The company can also be reached 24/7 at that 800 number if customers need them.
It is obvious that while ownership has changed and inventory and locations have expanded, one thing remains absolutely the same at Main Light — trust. Customers can trust that they will always get the industry leading, responsive customer service attention and reliable, high-quality equipment that they rely upon when partnering with either Main Light East or Main Light West. We have no doubt that Main Light is committed to, and ready to, support production and rental companies from coast to coast with unmatched customer service and inventory.